Girl bedroom decoration design with 16 creative tips
The atmosphere around us has a great impact on our mood. So we have to put time and energy into its beauty for our own sake. That's why in this article we want to present interesting and creative ideas to change the decoration of a girl's bedroom. Everything you need to know about Girl Bedroom Decoration Design to create a dream room is listed in this article.
1. Use all colors to achieve the best result (color decor)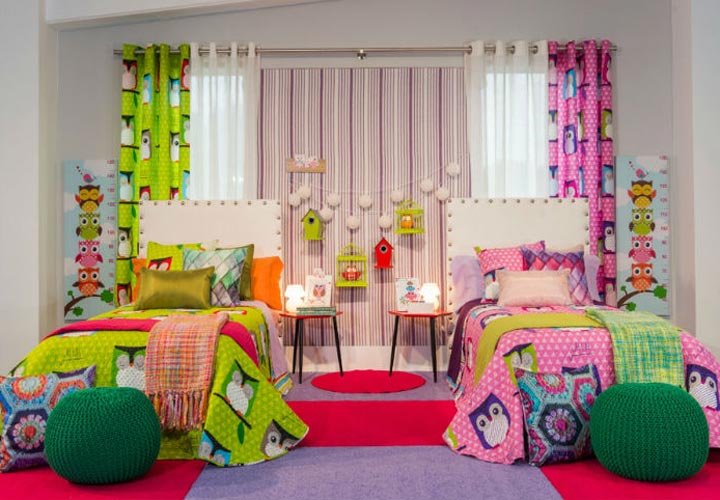 Everywhere in the room, from the pillows to the walls, a rainbow of bright colors can be seen. When you want to use a sharp range of colors, repeat a certain element regularly for more effect. In this room, for example, owls play a major role and appear on pillows, bedspreads, curtains and artwork. Also, white has been used in coloring to give more effect to the colors.
۲. Interesting and practical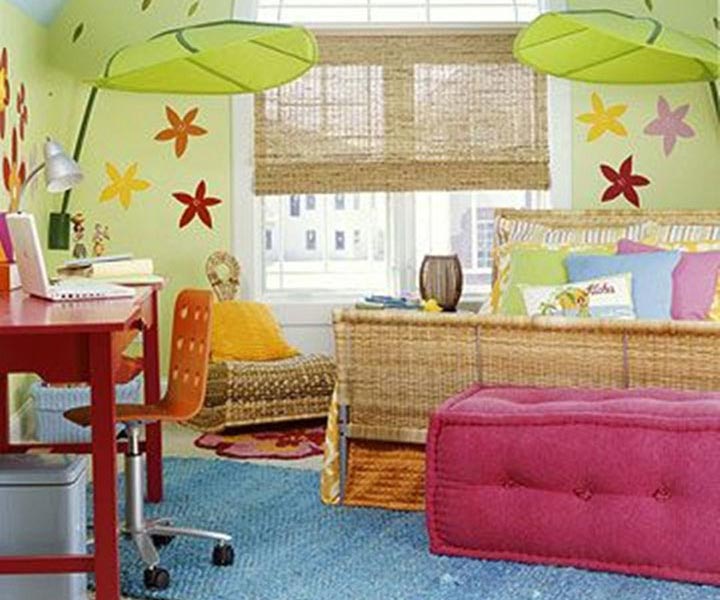 Concentrating on studying can be tedious, but in an interesting room like here, homework is a little easier than elsewhere. A large study desk and chair with a box for collecting crumbs create a small work environment. On the other hand, when it comes time to relax, armchairs, with their cheerful colors and attractive shapes, turn the room into a place for laughter and happiness with friends.
3. A room without pink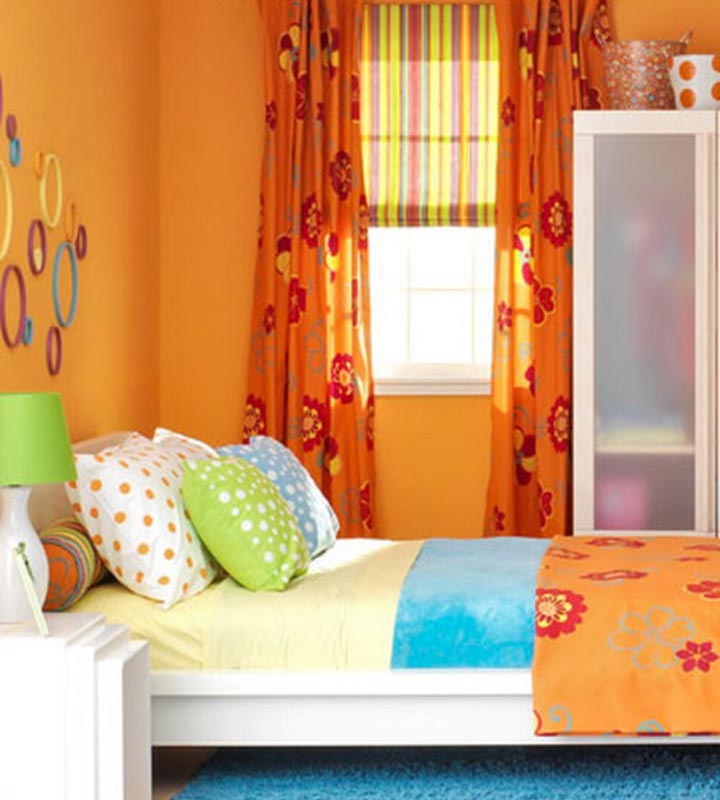 The room does not use the traditional colors of girls and instead, the use of orange spectrum along with its contrasting color, blue, has given it a modern shape. Printed flowers have also been added to the decor, which are more graphic to maintain the modern design.
4. The power of colors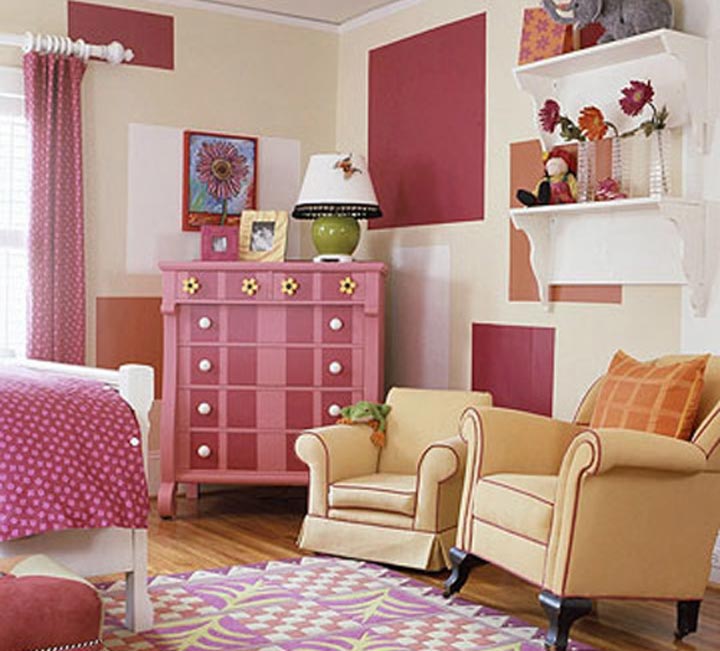 To change the dry and cool color of the wall, you can easily implement this simple decor yourself. Mark squares of different dimensions on the wall with drawing tape. Then fill the inside of these squares with different colors. For example, here, raspberry and peach squares are used on the wall.
5. Change the decoration as your daughter gets older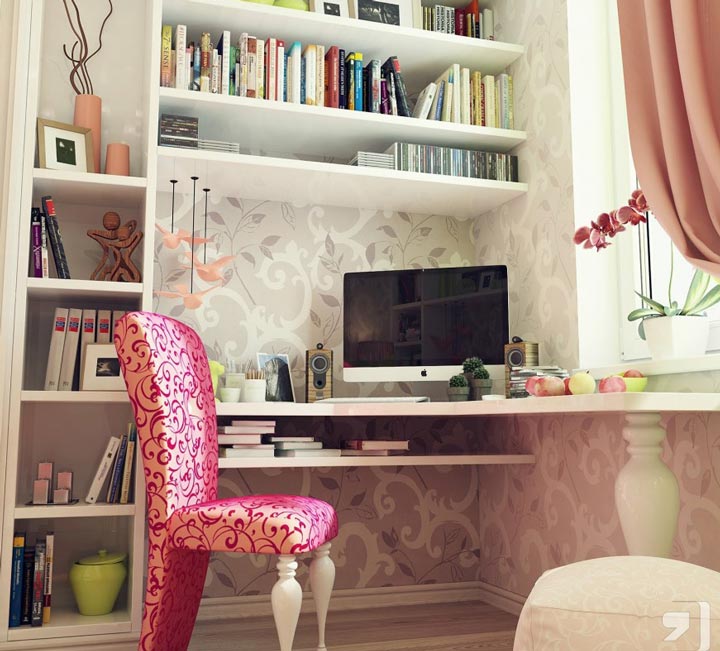 Beauty is important, but the practicality of the decoration is more important than that. As your daughter gets older, white furniture can still stay in place. Bedding, decorations and wall colors can be easily changed according to personal taste. Cabinets and shelves can also be filled with magazines and cosmetics instead of dolls and toys.
6. Special style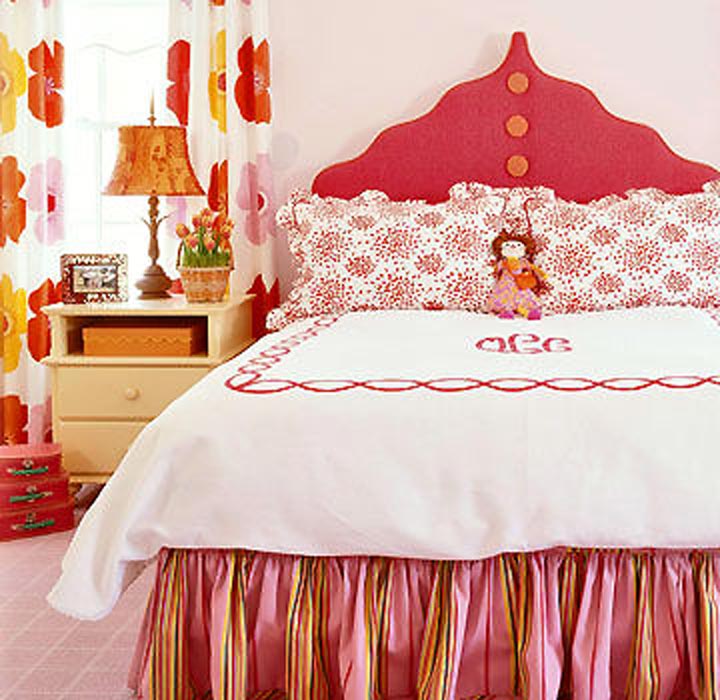 Combine old and new to give your little girl room a special look. The bedspreads decorated with the first letter of the name are old and classic, but a modern border has been created using red. The stylish flowers of the curtain also contrast with the printed design on the pillows. The curtains are hung from a high height close to the ceiling to make the design more visible on their fabric.
7. Writing on the wall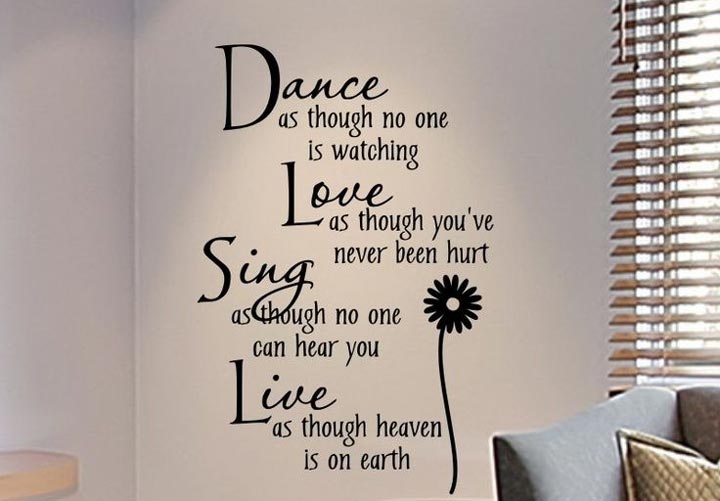 A beautiful poem on the wall gives it an artistic atmosphere. You do not need to be an artist to do this and draw on the wall yourself. You can go to the store and buy a decal. Make sure that the color of the writing contrasts with the color of the wall so that the words can be seen clearly.
8. Use points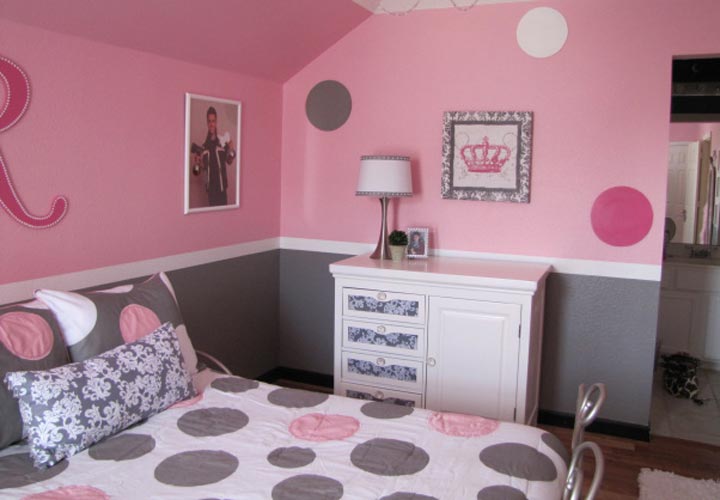 The colorful and dotted theme, with brown dots between them, gives the room a special look. These happy spots are used on the walls and bedding (you can use a decal to create such a view). Sprinkle some blanks on the pillows to prepare the room for the little girl who is growing up and entering adolescence.
9. Room zoning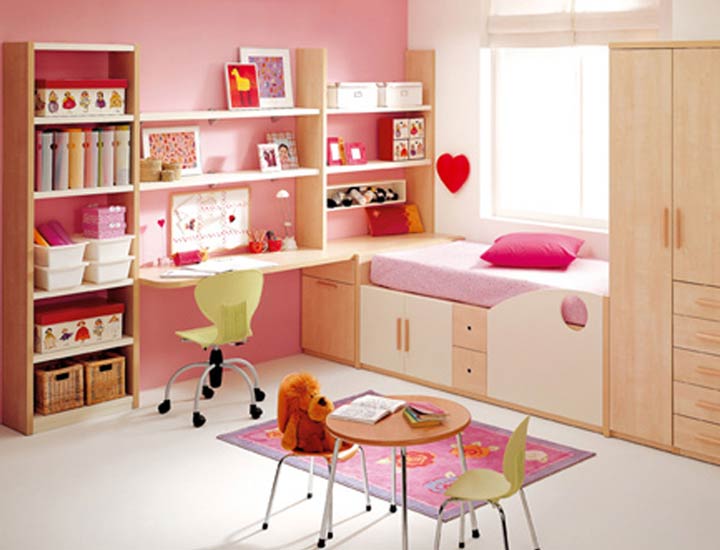 Zonate the room for specific tasks and purposes. A cozy and comfortable bench by the window is a good place to study. Large boxes inside shelves, toys and books in one place. A small table in the middle of the room can be a good place to have tea with friends or to study and do homework.
10. An interesting decor for everyone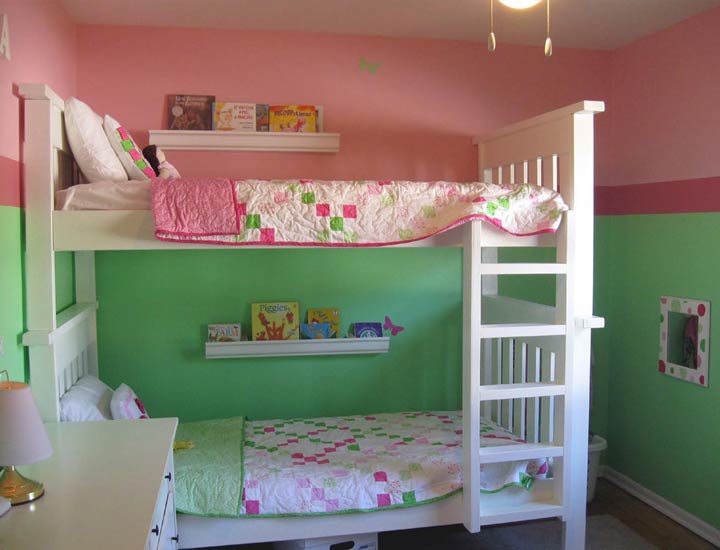 Sharing two sisters in the same room can be a source of controversy. It is better to keep this in mind. If the girls are big enough to comment on the room decor, ask them. That way they like their room more. Also, consider areas for each of them to feel that they have a place of their own. Another tip: Plan for the future. . As soon as your baby is in the crib, prepare yourself for changing furniture or adding a bigger bed.
۱۱. Use curtains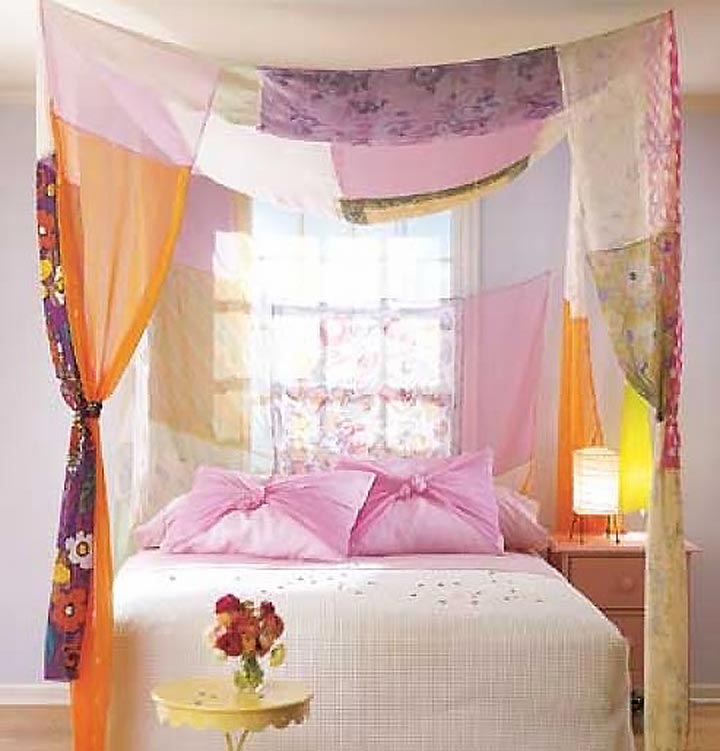 Make a canopy for a simple bed. Cut the fabric so that it hangs from the length and width of the bed. Embroider the corners of this curtain as shown in the figure or close it with tape. Screw the corners of the curtain to the ceiling.
۱۲. Use old furniture for new decor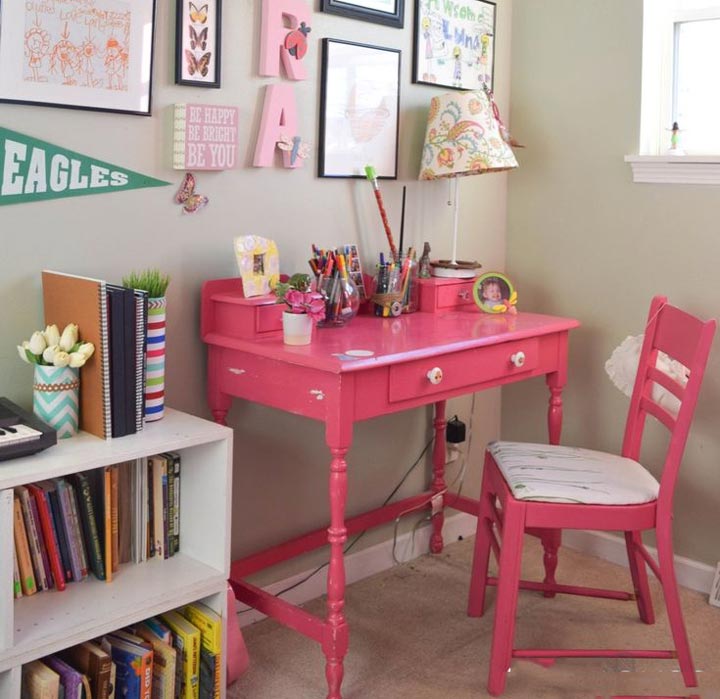 Paint an old table and add a mirror to make it look bigger. This desk can be used to place books, laptops or reading. To complete the work, put a chair next to it and decorate it with beautiful girly accessories.
13. Simple but stylish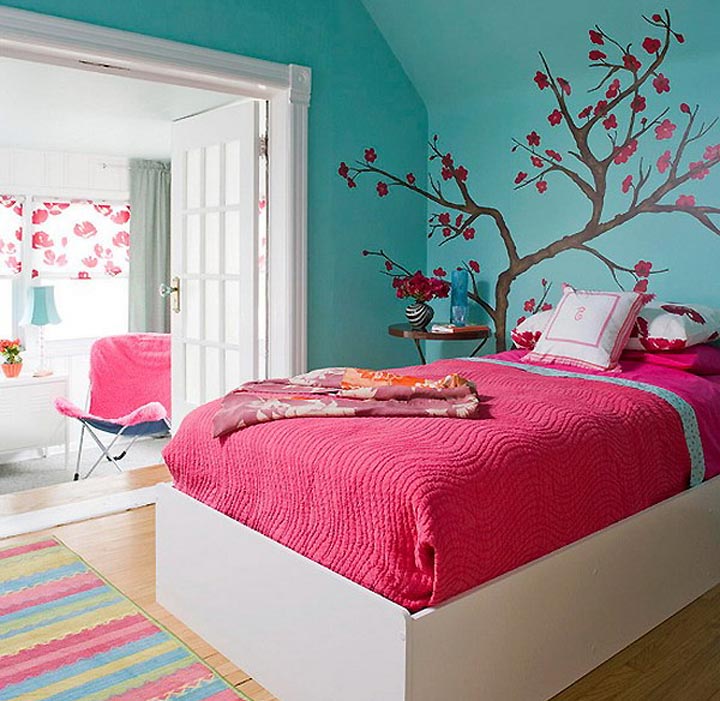 This beautiful room, where only blue and pink colors are used, proves that even using only two colors can be enough to create a beautiful atmosphere. To do this, you can choose several colors and use them on a large scale. For example, one for the walls and the other for the bedspread. Add a little white color to show more.
۱۴. Welcoming change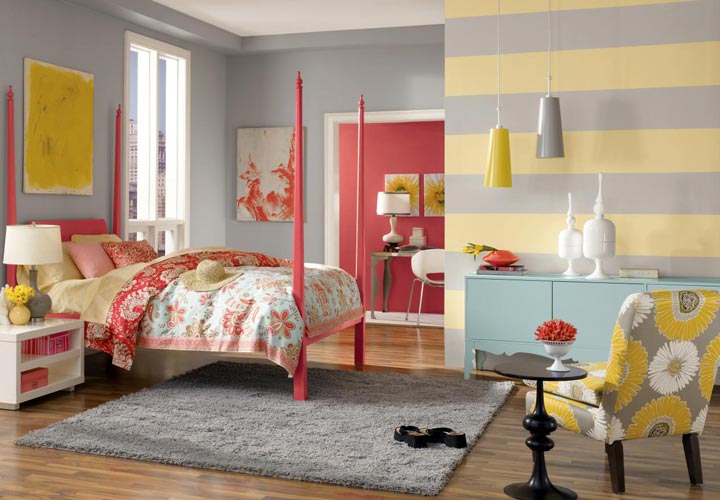 For a girl who always loves change, you can suggest this room. A simple bedspread with pillows that can be changed. To start, put a few pillows on the bed and then let your daughter add some more pillows with other designs. So to change the look of the room, you can quickly change the pillows.
۱۵. Floral composition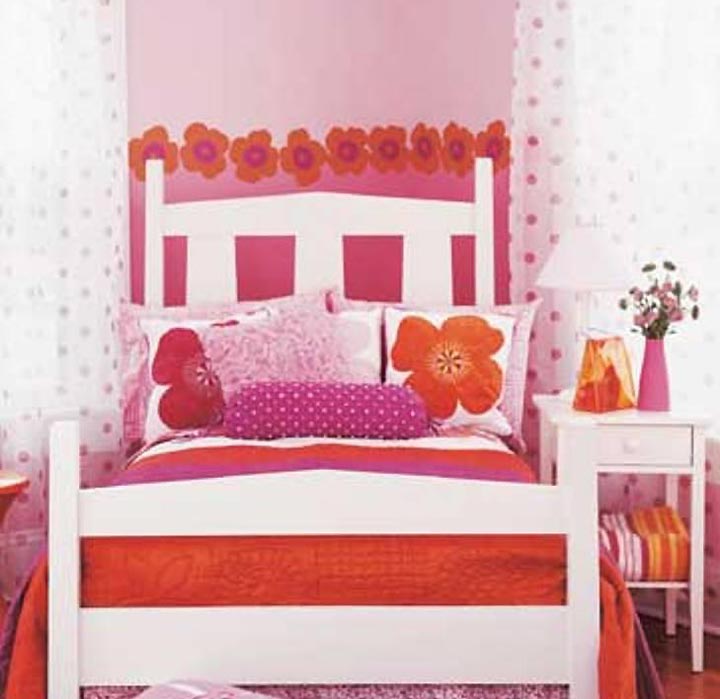 Flowers have long been a staple of girls' rooms. You can keep this tradition, but give it a new look by using bright colors and beautiful and interesting print designs. For example, here, orange is combined with a happy purple color. The walls and pillows are also decorated with graphic flowers. In addition, the curtains give the room a more modern look.
۱۶. Decor "Look at me!"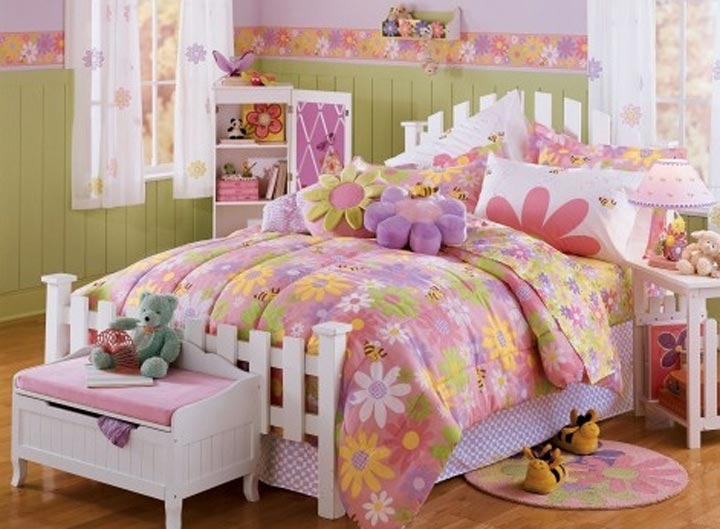 A bed with beautiful railings surrounded by a row of colorful windows and curtains. In this room, the bed is in the center of attention. Sunlight illuminates the room perfectly, but thick curtains can be drawn to prevent light from entering. This bed may seem too big for a little girl, but it's a good idea, because this little lady will grow up soon.
Retrieved from: parents
Warning! This article is for educational purposes only and you need to consult a doctor or specialist to use it. more information
.
[ad_2]
Girl bedroom decoration design with 16 creative tips
Read more about Teen Room Decoration Ideas