Design a child's room decoration with 10 tips that will give you ideas
Children have a very delicate and sensitive soul. Therefore, their comfort and safety, especially during sleep, is very important. The decoration of the child's room is very important because children like to play in a room that is designed based on their favorite subjects. As much as possible, try to reflect the dreams of your beloved children in their room. Ask them what they are interested in and make the necessary supplies based on that. Decorating a child's room can be costly or expensive, depending on the background. It's up to you to decide how much it will cost. Of course, if you spend a little creativity and follow the tips mentioned in this article, you can design a beautiful room at a low cost.
1. Use light colored curtains
Colors can change our mood. Colorful curtains give joy and light to the room. Choose a curtain color that matches the background of the room. Bright colors can make the room look bright and clean. You can use valances and shades to reduce intense light. Choose valance and shade from complementary curtain colors.
۲. You can use your own toys to decorate your child's room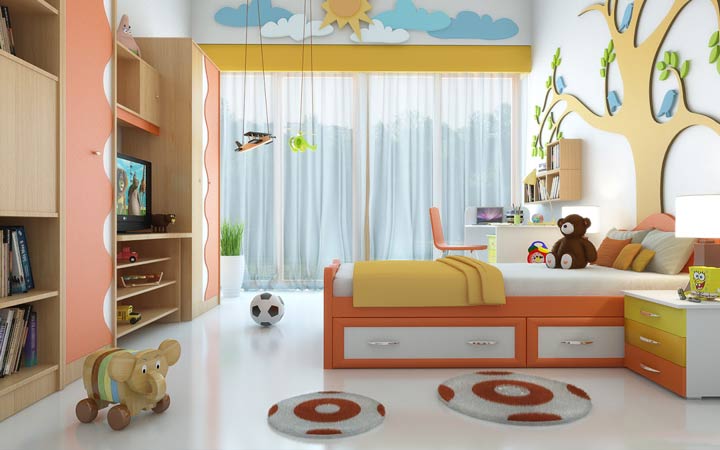 Children's toys are usually colorful and come in a variety of shapes and sizes. By using baby toys as room decorations, you will save both money and space. Of course, you have to have a little taste in picking them. Hang large toys with hooks and place smaller toys on shelves.
3. Use a combination of paint and wallpaper for the wall
Use bright and cheerful colors for the wall. Decorate part of the walls with wallpaper and posters. You can use the same method to decorate the cupboards. You can also use painting instead of wallpaper. The subject of the drawings can be flowers, race cars and anything the child is interested in.
4. Use suitable fabrics in the child's room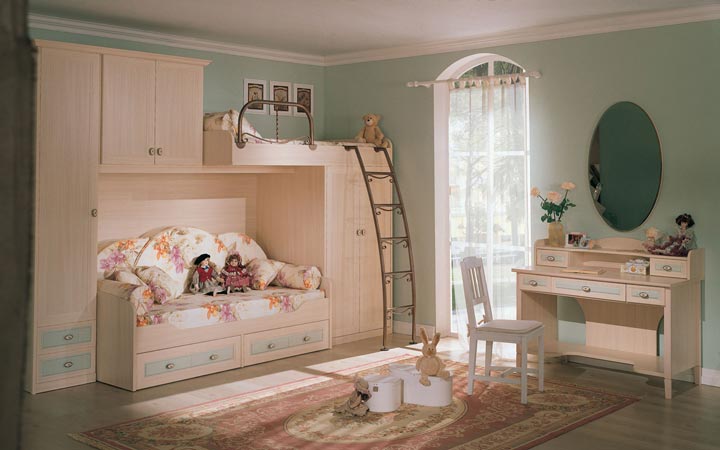 It is best to match the fabrics used in the child's bedroom, such as bedspreads, bedding and pillows, with the background of the room. The upholstery and curtains should also match the background of the room.
5. Also consider decorating the ceiling
Use bright decorative items with a dark background on the ceiling. You can use the moon and star design. In this way, the child enjoys watching them while sleeping and sleeps peacefully.
6. Use of educational tools in decorating a child's room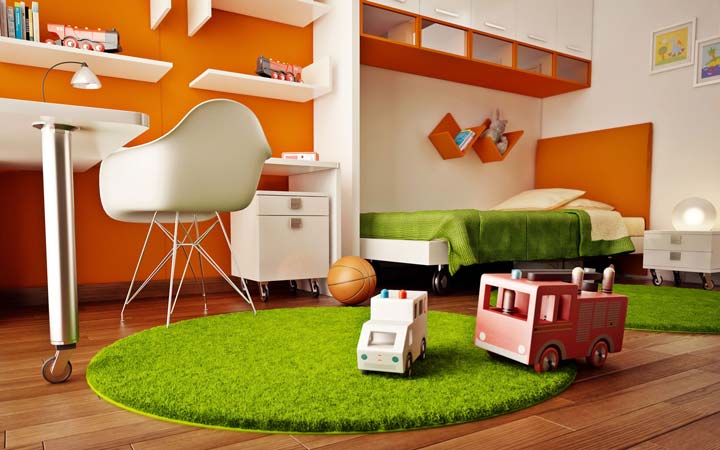 Educating a child is one of the most important things that should always be in the center of your attention. So in designing a room, do not try to pay attention only to its entertaining and beautiful aspect. Include decorative books, books, and toys. By doing this, the child will be both educated and have fun and entertainment.
7. Use baby photos to decorate the room
Post your child's favorite photos on the wall or anywhere else convenient. Put photos of him on vacation, at school, or on special days of his choice in his room.
8. Create creative spaces in the room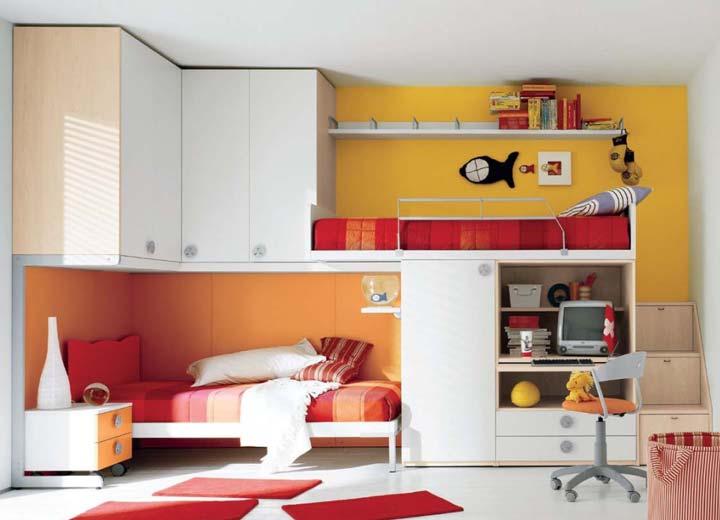 The child's room should have spaces where he can put his belongings. Consider different parts of the room and assign each section to one of its appliances (toys, clothes, books, etc.). These spaces should be chosen so that they are accessible to the child. Teach him to put his tools back in place after each use. Teach him how to organize his belongings.
9. The floor covering of the room should be appropriate
Children like to crawl on the ground while playing. It is best to carpet the floor to protect your feet, knees, hands and other parts of your body. You can even use special rubber mattresses instead of carpets.
10. Use beautiful bedside lamps
The baby's room should not be too dark at night, so it is best to use a bedside lamp. There are a variety of bedside lamps in different designs and colors for children. You can even use the simple type and decorate it yourself.
The last word
It is true that the decoration of a child's room is very important and can bring him some peace and happiness, but what is most important for a child is your love and affection. Remember, you do not have to forget the joy of living to be successful. Even with hard work, you need to spend as much time with your children as possible. They need your interest and attention more than anything else.
.
[ad_2]
Design a child's room decoration with 10 tips that will give you ideas